Yesterday, CALFire, California's primary fire agency, announced it had seized some of PG&E's equipment stating that just before the Zogg Fire ignited there were alarms emitted on PG&E's network. The Zogg Fire is one of many many wildfires that have plagued California in the 2020 season.
The 2020 wildfire season in California has been utterly beyond belief. In an average California see's about 1 million acres burned, but in 2020 so far (the season isn't finished) there's been over 4 million acres burned, with one of those fires covering over 1 million acres. Near that fire, the August Complex, is a much smaller fire, the Zogg Fire.
In recent years PG&E, the "gas and electric" utility for most of Northern California, has been blamed for igniting several massive wildfires. The most egregious was the Camp Fire in 2018 which destroyed the town of Paradise CA. But this year the story of the fires has been about lightning strikes, rather than downed power lines on PG&E equipment that has had little maintenance.
We imagine that PG&E has breathed a sigh of relief over not being blamed for the 2020 fire season. But this Zogg Fire has the appearance of being caused by PG&E.
KPIX TV (CBS SF Bay Area affiliate) reports that CALFire has seized PG&E equipment while investigating the Zogg Fire
. The KPIX report includes a link to a PG&E incident report which includes this statement:
Summary: On September 27, 2020, a wildfire began in the area of Zogg Mine Road and Jenny Bird Lane, north of Igo in Shasta County, California (the Zogg Fire). The California Department of Forestry and Fire Protection (CAL FIRE) website, dated as of October 9, 2020, 6:20 a.m. Pacific Time (the CAL FIRE website), indicates that the Zogg Fire had consumed 56,338 acres and was 95% contained. The CAL FIRE website reported four fatalities and one injury. The CAL FIRE website also indicated that 27 structures were damaged and 204 structures were destroyed. Wildfire camera and satellite data on September 27, 2020 show smoke, heat or signs of fire in that area between approximately 2:43 p.m. and 2:46 p.m. Customers in the area of Zogg Mine Road and Jenny Bird Lane are served by a PG&E distribution line the Girvan 1101 12 kV circuit. According to PG&E's records, on September 27, 2020, a PG&E SmartMeter and a line recloser serving that area reported alarms and other activity between approximately 2:40 p.m. and 3:06 p.m., when the line recloser de-energized that portion of the circuit. The data currently available to PG&E do not establish the causes of the activity on the Girvan 1101 circuit or the locations of these causes. On October 9, 2020, CAL FIRE informed PG&E that they had taken possession of PG&E equipment as part of CAL FIRE's ongoing investigation into the cause of the Zogg Fire and allowed PG&E access to the area. PG&E does not have access to any evidence collected by CAL FIRE. CAL FIRE has not issued a determination as to cause. PG&E is cooperating with CAL FIRE in its investigation. This information is preliminary.
Some PG&E equipment detected a fault at approximately the same time and location as the Zogg Fire ignited. Hence it is likely that PG&E equipment failed, and ignited the fire. It's a similar scenario to previous wildfires ignited by failed PG&E equipment.
At the peak of CalFire's engagement with the Zogg Fire
, on October 2, 2020, there were 1,832 personnel working the fire, with 201 fire engines, 15 helicopters, 39 hand crews, and "numerous" air tankers flying fire suppression missions. One of the first reports from this fire
is the death of civilians who'd been caught by the fire while trying to escape. Four deaths total are assigned to the Zogg Fire.
Today the Zogg Fire is largely extinguished, with this total impact assessed by CALFire:
A complicating factor for the Zogg Fire is the existence of Red Flag warning conditions
at the time. "Red Flag" in this case has nothing to do with Communism, but is a type of warning issued by NOAA when it detects conditions are ripe for wildfires. The combination is low humidity, at the time in the range of 5%-20% humidity, and high winds. At the time wind gusts were expected up to 45 miles/hr, and over 65 miles/hr in canyons.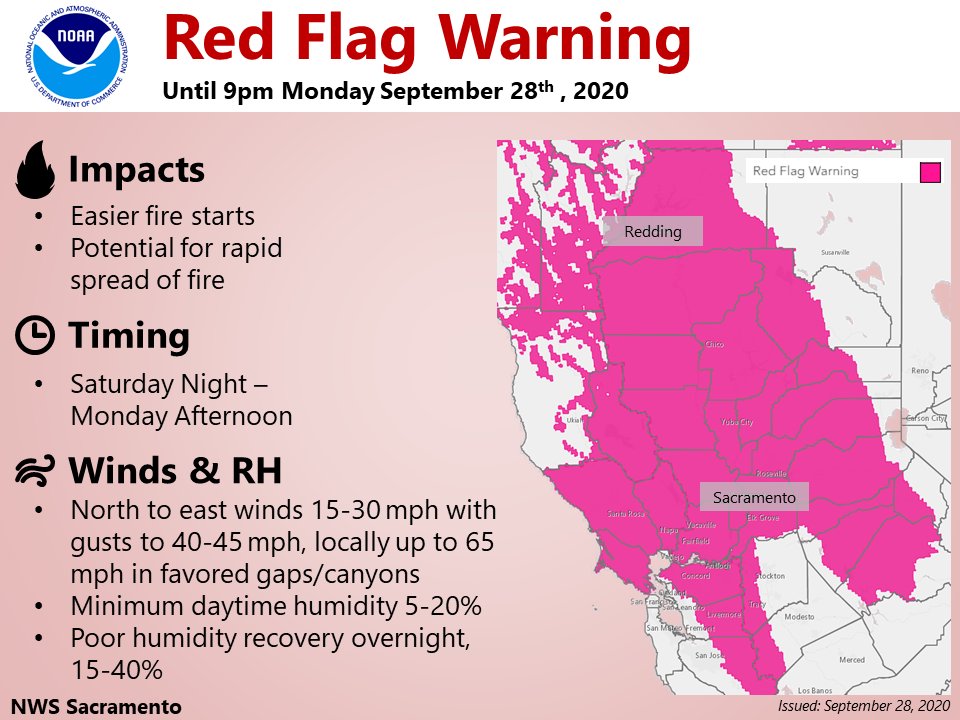 As you can see from the map, this area covered a large portion of northern California. In the same time frame, the Glass Fire (Napa County) ignited burning over 60,000 acres of mountains in the wine region, and the other existing fires greatly expanded.
CALFire issued warnings on Sept 22
, Sept 26
, Sept 26
, and Sept 27
. The National Weather Service (Sacramento) issued warnings on Sept 24
, Sept 25
, Sept 25
, Sept 27
, Sept 27
, and Sept 27
. Then on Sept 27
, CALFire Shasta announced responding to a 50 acre fire in Igo near Zogg Mine Rd. The fire quickly grew to 400 acres
, showed up in GOES-17 satellite imagry
, grew to 1000 acres
, and 7000 acres
, with road closures
announced by the Shasta County Sherrif, all in one day. By the next day (Sept 28), the Zogg Fire grew to 15,000 acres
, and caused the civilian fatalities described earlier.
This is rapid fire growth, in terrain that is ready to explode into fire because of ultra dry conditions and high winds.
While PG&E has been stereotyped as not maintaining its equipment, and therefore bears some responsibility, we must also remember that climate change and the heating of the climate is a large cause.
California's utility industry has developed a strategy over the last couple years. When conditions are detected to be ripe for wildfires, the utilities are supposed to conduct "Public Safety Power Shutoff" events. A PSPS is when the utility company de-energizes electrical lines so that if a power line fails, it won't emit sparks that start wildfires.
Starting on Sept 22
, PG&E started issuing warnings of a possible PSPS. On Sept 23
, PG&E announced an interactive weather map for the public to view. On Sept 24
, PG&E reminded us their crews have been "hardening" the electricity grid, by "vegetation management", introducing "new grid" technology, and ensuring PSPS events this year will be shorter. On Sept 24
, Sept 24
, Sept 25
, Sept 25
, Sept 25
, Sept 26
, Sept 26
, PG&E issued PSPS warnings. On Sept 26
, PG&E aired a 30 minute TV program throughout Northern California discussing PSPS events and powerline safety. On Sept 27
, PG&E announced it had begun PSPS activity in certain areas of Northern California. In another Sept 27
tweet, PG&E wrote: "PG&E Conducts Public Safety Power Shutoffs in Response to High-Wind Event, Scope of Event Reduced to 65k. First Wave of 11k Public Safety Power Shutoffs Completed Sunday Morning; Second Wave of 54k Customers in Central Sierra Begins Sunday Afternoon https://bit.ly/347I39K".
At 9pm Sept 27
, PG&E posted this event summary: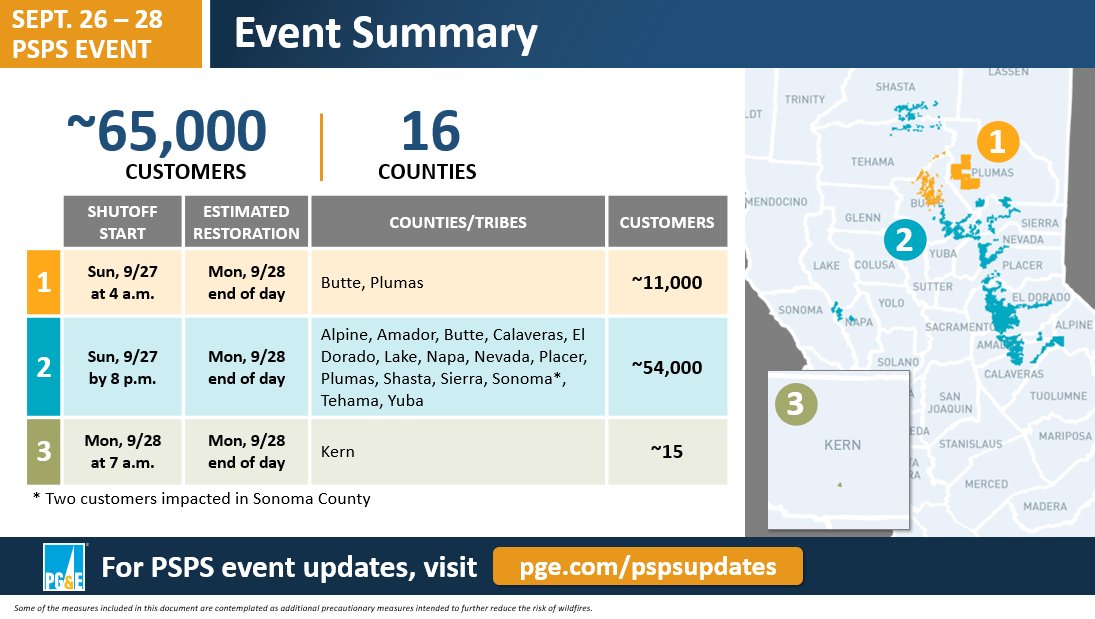 It looks like PG&E's shutoff for Shasta County did not cover the area of Igo, CA. Igo is located towards the south-west corner of Shasta County (Google Maps link
) while the area PG&E shut down power in Shasta County was further east.
PG&E issued this summary of its Sept 27 public briefing
: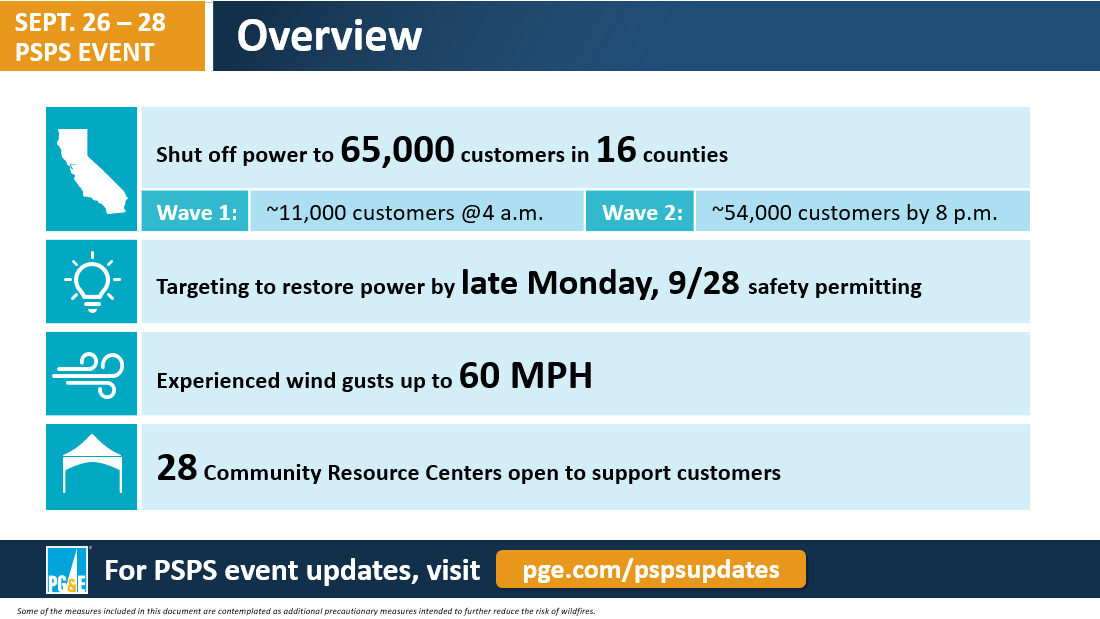 While PG&E did participate in issuing warnings, and power was shut down to lots of PG&E customers in several Northern California counties, the company did not correctly predict a fire starting in Igo CA.