Seeking to have a strong impact on the climate change crisis, the Biden Administration has an agenda of transforming the energy economy and achieving carbon-pollution-free electricity by 2035. That's an aggressive goal, and if you think about it the fastest path requires installing lots of solar panels and wind turbines coupled with energy storage systems. This puts lithium batteries into the role of a critical resource to handling the intermittency of solar and wind energy.
Therefore, the US Department of Energy recently released the National Blueprint for Lithium Batteries, which lays out a strategy for increasing domestic production of and research into lithium batteries. This document is labeled as being from the Federal Consortium for Advanced Batteries, which is a cross-agency partnership of organizations in the Departments of Energy, Defense, Commerce and State, as well as collaboration with USA universities, national laboratories, corporations, and international allies.
I've put a summary of the document at 2021 US Government National Blueprint for Lithium Batteries
(greentransportation.info). The strategy document is available there, as well as links to further resources.
A key point is this data about global lithium battery production: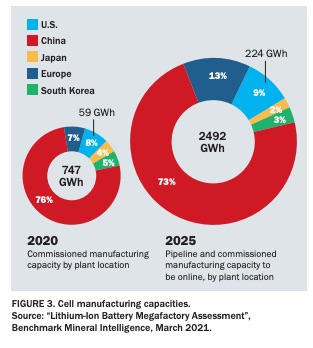 Current capacity is 747 GWh, 76% of which is in China. It's expected that in 2025 the capacity will have grown considerably, but 73% will still be in China.
This puts China in the drivers seat for the global transition to clean energy technologies.
The risk of relying on imports from China for critical resources
One lesson we must learn from the global COVID-19 pandemic is the risk of over-reliance on offshoring product manufacturing to China. The last several decades most manufacturing has moved to China, largely because of cost. But, in March 2020 with hospitals rapidly filling with COVID-19 patients, the big issue was a reliable supply of protective equipment (PPE). Many doctors and nurses died because they were reusing their PPE, or otherwise working on COVID-19 cases with insufficient protection, leading the medical staff to get sick and die themselves. The problem? Most manufacturing for PPE was in China, which suddenly became a supply bottleneck.
In terms of the energy system, it would be a great shame to switch from a dependence on foreign oil to a dependence on foreign batteries. What could China do to the global economy if the research and manufacturing of lithium batteries remains 75% located in China?
America First?
The Trump Administration really pushed the phrase America First. Those with knowledge of fascist groups recognize this phrase as ominously similar to phrases used by American Fascist organizations from decades ago. But we have another point to discuss.
Reading the National Blueprint for Lithium Batteries, that phrase, America First, kept coming to mind. If the Trump Administration was all hot on the America First idea, then why did the Trump Administration not develop this lithium battery strategy?
In other words, isn't the Biden Administration doing a better job at focusing on building up American Companies than did the Trump Administration?
Can the USA bootstrap a lithium battery industry?
Clearly the USA is at a disadvantage to China in terms of battery manufacturing. Business as usual for the last decades has been outsourcing manufacturing and more to wherever the cheapest labor exists.

But, can the USA successfully build up its domestic manufacturing base?
According to a SWOT analysis in the strategy document, the USA is in a good position to gain/regain a strong position as a lithium battery supplier. The USA is home to many leading vehicle manufacturers and battery companies, has a skilled labor force, has R&D and manufacturing expertise, etc. Increasing lithium battery production would benefit the USA by increasing the number of skilled labor jobs, and economic growth. But so far there has been a lack of a national-level strategy. Finally, there is the threat of predatory pricing from other companies (cough cough China).
To implement the strategy, Argonne National Labs is launching Li-Bridge
, which is a public-private-partnership aiming to accelerate development of a "robust and secure domestic supply chain for lithium-ion batteries". Leading the effort is Venkat Srinivasan, director of the Argonne Collaborative Center for Energy Storage Science
 (ACCESS) and deputy director of the Joint Center for Energy Storage Research
 (JCESR).
The supply chain they refer to comprises:
Upstream: Mining and extraction of materials including lithium, cobalt, nickel and graphite
Midstream:

Processing materials into battery-grade
Cathode, Anode, Electrolyte and Separator production
Battery cell manufacturing

Downstream:

Battery pack manufacturing
End-of-life recycling and reuse
It's interesting that this includes those elements, lithium, cobalt, nickel and graphite. The strategy document includes several goals to reduce or eliminate use of cobalt in particular, since it is a rare mineral available only from a few places. However, the combination of cobalt, nickel and graphite reflects the current generation of lithium batteries. It's very likely that shortly the lithium battery industry will shift to using other minerals, such as sulfur or silicon, which by itself would eliminate use of cobalt and nickel.
A part of yesterdays Li-Bridge announcement, was an announcement of $209 million in funding for electric vehicle battery research
. The projects list focuses on solid-state lithium, lithium-sulfur batteries, electrolytes for the same, and manufacturing improvements.
Summary
I'm impressed by the strategy document, and the scope of the vision. But, the track record of the USA taking real action of this sort is weak. The decades-long pattern of outsourcing manufacturing to China is going to be difficult to overcome.
I fully agree that the USA needs to do this, or else watch China eat our lunch even more than it is already doing.